NEWS RELEASE
Appareo Announces 4K Ultra HD Flight Data Recorder with Cellular Data Offload
FARGO, North Dakota (June 22, 2021) — Appareo today announced a new 4K ultra-high-definition Airborne Image Recording System (AIRS), model AIRS-400, that is equipped for cellular data offload. In addition to recording 4K Ultra HD video, AIRS-400 captures pilot intercom system audio, ambient audio, and detailed flight data. With its internal inertial measurement units, AIRS-400 captures WAAS GPS (altitude, latitude, longitude, ground speed, vertical speed), attitude data (pitch, roll, yaw), rates of rotation, and acceleration data (G forces) — all in a unit that weighs 11 ounces. It comes with options for ARINC 429 input, ED-155 audio output, and RS-422 output, making it the most versatile and flexible lightweight flight data recorder on the market. AIRS-400 was introduced by Appareo today at the Aircraft Electronics Association convention in Dallas, Texas.
AIRS-400 is a Class C Airborne Image Recorder, and can be paired with a crash-hardened storage module such as the RDM-500 (under development) to meet or exceed crash survivability standards of ED-155.
With AIRS-400, flight data is recorded to an internal crash-hardened memory as well as a removable SD memory card. The internal memory records two hours of video and audio, more than 200 hours of IMU flight data, and 100 hours of ARINC 429 data. The removable SD card holds 64 hours of video and audio, and more than 200 hours of IMU flight data, or 100 hours of ARINC 429 data.
While many flight data acquisition systems rely on pilots or crew members to manually transport an SD card to a workstation, AIRS-400 offers cellular data offload capabilities, ensuring the maximum speed of data reception while simplifying system maintenance and reducing costs.
AIRS-400 can be easily installed in any model of aircraft, for any type of operator. Using the onboard inertial and GPS capabilities, AIRS-400 can provide an actionable volume of flight data without needing to interface with avionic systems. For aircraft with ARINC 429 available, the AIRS-400 can acquire flight data directly from the aircraft system. This allows the AIRS-400 to be implemented as a single avionic solution for a mixed fleet.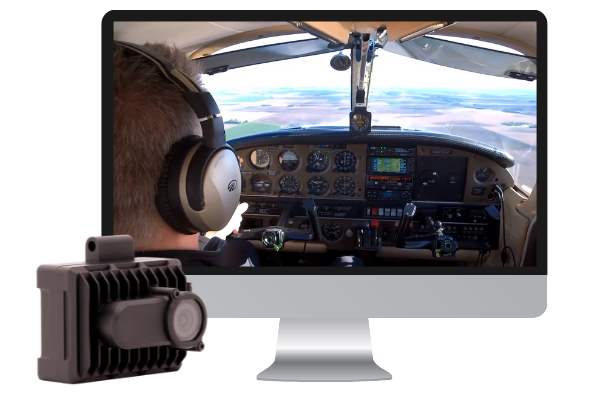 "FDM or FOQA programs are valuable for fleet operators to monitor trends, identify areas of risk, and deploy training programs to mitigate those risks. However, it can be a challenge for mixed-fleet operators to effectively analyze their flight data when it is collected in multiple acquisition systems" said David Batcheller, President & CBO of Appareo. "The AIRS-400 is an ideal solution for those programs because it was designed for use in both modern and legacy aircraft," Batcheller said.
With its one-day installation and simple setup, AIRS-400 is the easiest way to get started with an FDM program. Whether data is offloaded via SD card or cellular transmission, it can then be monitored, analyzed, and played back using Appareo's suite of FDM/FOQA software tools, which are the easiest flight data monitoring software tools to use on the market today. Together with Appareo's flight replay and analysis software, AIRS-400 is a powerful tool for debriefing flights, and provides critical troubleshooting insight for maintenance personnel. With the web-based software, Appareo EnVision, an FDM team can set up customized event triggers — derived from their standard flight ops — to create a comprehensive picture of the safety and performance of their crew and aircraft.
AIRS-400 joins the Appareo connectivity ecosystem, which includes some of the industry's best lightweight flight data recording solutions, including Vision 1000, the flagship recorder by which Appareo pioneered FDM for light fixed-wing aircraft and rotorcraft.
"Considering our Vision 1000 customers who are interested in upgrading to UHD video and cellular data offload capabilities, AIRS-400 was designed to be a drop-in replacement for the Vision 1000 recorder," said Kris Garberg, President of Appareo Aviation. "Customers who purchased Vision 1000 from Appareo, or received one in a new Airbus Helicopters delivery, can purchase AIRS-400 and plug the new device directly into the Vision 1000 harness and re-use the original mounting bracket."
AIRS-400 is pending FAA certification. A full STC AML will be available — contact Appareo for information about pricing.
# # #
About Appareo
Founded in 2003, Appareo pioneered FDM for light fixed-wing aircraft and rotorcraft by producing Vision 1000, the most compact and lightweight flight data recorder available. Currently, multiple airframe manufacturers utilize Appareo data recording products as standard equipment on their aircraft. Appareo's accompanying FOQA software suite was named "Product Breakthrough of the Year" by
Aviation Week & Space Technology
in 2007. Appareo then became the industry leader in the design and production of ADS-B equipment for general aviation, after introducing the first Stratus portable ADS-B receiver in 2012, and subsequently introducing a series of certified and non-certified Stratus products designed to advance situational awareness and safety, increase pilot comfort, reduce pilot workload, and improve the flying experience for aviators.
Appareo is a recognized leader in the custom design, development and manufacture of innovative electronic and software solutions for aerospace. Through the creative application of cutting-edge technologies, Appareo creates complex end-to-end solutions that include both mobile and cloud-based components. The company is privately held, with headquarters in Fargo, N.D., and a design office in Paris, France. All products are built and supported in the USA.
Product Photos: appareo.com/media